10/11/2018
Current trend
The pound continues to grow against the US dollar.
At the end of September, the pair declined significantly and it seemed that the upward trend would change, but later the instrument formed a new upward wave and went up more than 300 points in several trading days. The main catalyst for growth was the decline in the US currency amid falling demand and favorable statistics from the UK in recent weeks.
Today, special attention should be paid to the speech of the head of the Bank of England Mark Karney and the regulator's report on the state of the credit market. The US will respond with data on the labor market and inflation at the end of the week.
Support and resistance
In the short term, a slight correction to the levels of 1.3150, 1.3130 is expected, after which the pair will return to growth. In the future, a rise to the recent local maximum of 1.3300 is expected with a high probability of breaking out of this level and testing new local maxima. The next key resistance levels are 1.3450, 1.3500.
Technical indicators confirm the growth forecast: MACD shows growth in the volume of long positions and Bollinger Bands are directed upwards.
Support levels: 1.3180, 1.3150, 1.3130, 1.3110, 1.3060, 1.3030, 1.3000, 1.2975.
Resistance levels: 1.3240, 1.3270, 1.3300, 1.3370, 1.3450, 1.3500.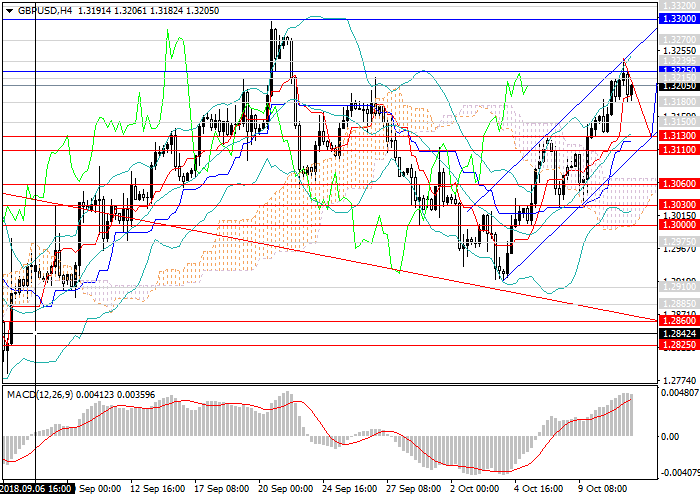 Trading tips
In this situation, long positions may be opened from the current level with targets at 1.3300, 1.3450, 1.3500 and stop loss at 1.3175, 1.3000.
BCS Forex clients are provided with daily analytical reviews and forex market forecasts from the leading experts with many years of successful trading experience. Competent forecasts allow you to realistically assess the situation on Forex market and identify potential risks, as well as emerging investment opportunities. At the heart of professional forecast is an expert opinion based on analysis and the latest trends of the world financial markets.
To make forecasts, you need not only a comprehensive analysis of market fluctuations, but also  experience in Forex. Our experts possess all the features required for predicting certain market quotations. Analysis of such experts is supported by years of successful trading operations and in-depth knowledge of the peculiarities of global financial markets.