09/14/2018
Current trend
Having reached two-year lows at the end of last week, the instrument moved to growth and is currently trading near the psychological level of 0.7200.
Despite the low level of consumer confidence in Australia, AUD strengthened after the US offered to begin a new round of negotiations on trade tariffs with the PRC.
In addition, USD was under pressure from yesterday's negative data on US inflation. In August, the Consumer Price Index fell from 2.9% YoY to 2.7% YoY (minimum since April), and the Base Consumer Price Index rose from 2.4% to 2.2% (the worst indicator since May). Market participants feared that poor inflation data, along with pressure from President Trump's administration and trade tensions, could force FOMC members to hold only one interest rate increase instead of the two planned ones.
Today, the publication of data on retail sales in the US is expected at 14:30 (GMT+2), as well as the data on industrial production (15:15 (GMT+2)).
Support and resistance
On the H4 chart, the instrument is traded in the upper part of Bollinger Bands, trying to consolidate above the psychological level of 0.7200. The indicator is directed upwards and the price range has widened, which indicates the continuation of the uptrend. MACD histogram is in the positive zone, keeping a strong buy signal. Stochastic does not give clear signal for entering the market.
Resistance levels: 0.7234, 0.7266, 0.7308, 0.7345, 0.7987.
Support levels: 0.7195, 0.7146, 0.7110, 0.7076.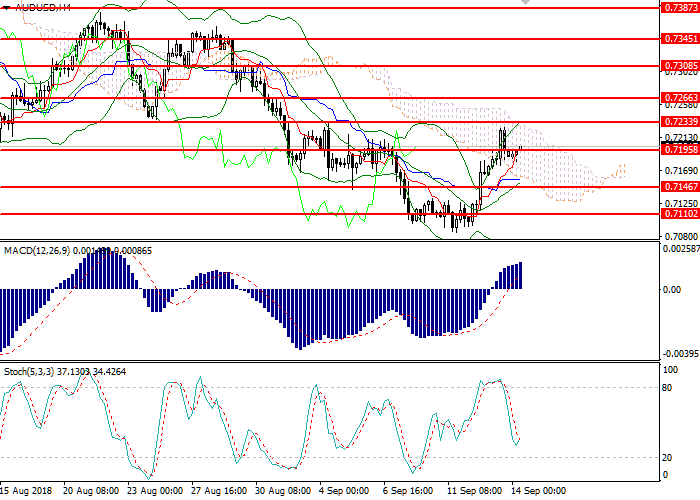 Trading tips
Long positions may be opened from the current level with target at 0.7250 and stop loss at 0.7180. Implementation period: 1 day.
Short positions could be opened below 0.7175 with targets at 0.7105, 0.7075 and stop loss at 0.7205. Implementation period: 1-2 days.
BCS Forex clients are provided with daily analytical reviews and forex market forecasts from the leading experts with many years of successful trading experience. Competent forecasts allow you to realistically assess the situation on Forex market and identify potential risks, as well as emerging investment opportunities. At the heart of professional forecast is an expert opinion based on analysis and the latest trends of the world financial markets.
To make forecasts, you need not only a comprehensive analysis of market fluctuations, but also  experience in Forex. Our experts possess all the features required for predicting certain market quotations. Analysis of such experts is supported by years of successful trading operations and in-depth knowledge of the peculiarities of global financial markets.