08/10/2018
Current trend
S&P 500 index is trading near the support level of 2847.9, after the breakdown of which the next target will be 7/8 Murrey or 2481.8.
A slight decrease is due to the news about the reciprocal taxes on American goods from China. On the other hand, giants such as Alphabet, Facebook, Amazon, and Microsoft continue to trade in the green zone, which should support the instrument and keep it from a strong correction. Yesterday, the healthcare sector also traded in the positive area, as the capitalization of CVS Health increased after data showing more profit than analysts had expected were published.
Today, the key news are expected: Consumer Price Index and July Monthly Budget Statement.
Support and resistance
Stochastic is at the level of 15 points and reflects a possibility of a correction.
Resistance levels: 2861.3, 2866.5.
Support levels: 2481.8, 2836.5.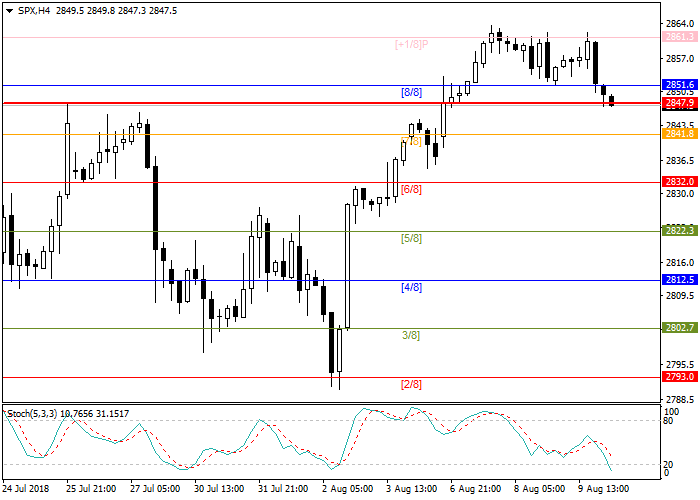 Trading tips
Long positions can be opened from the level 2481.8 with the target at 2866.5 and stop loss 2836.5.
BCS Forex clients are provided with daily analytical reviews and forex market forecasts from the leading experts with many years of successful trading experience. Competent forecasts allow you to realistically assess the situation on Forex market and identify potential risks, as well as emerging investment opportunities. At the heart of professional forecast is an expert opinion based on analysis and the latest trends of the world financial markets.
To make forecasts, you need not only a comprehensive analysis of market fluctuations, but also  experience in Forex. Our experts possess all the features required for predicting certain market quotations. Analysis of such experts is supported by years of successful trading operations and in-depth knowledge of the peculiarities of global financial markets.