08/09/2018
Current trend
This week, the instrument is traded within a limited price range, as part of an uncompleted correction.
At the moment, the movement of the pair is of a technical nature. The market is still focused on the US-Chinese trade conflict. In addition, the US sanctions against Iran caused a number of European companies to cease cooperation with the Islamic Republic, which increases the risks for the Eurozone economy.
Today, the ECB published an economic bulletin, which replaced the monthly report. The regulator insists on a continued sustained large-scale growth of the Eurozone economy. The increase in personal expenses is supported by stable income from employment, which indicates the success of labor market reform. Business investments are supported by favorable financing conditions, and an increase in global demand this year will stimulate the export of the Eurozone.
Today at 14:30 (GMT+2), the statistics on the US labor market and manufacturer prices will be published.
Support and resistance
On H4 chart, the instrument is testing a strong resistance level of 1.1600. Bollinger bands are reversing up, and the price range remains unchanged, indicating a short-term pair strengthening, but within the correction. MACD histogram is near zero line. Stochastic is correcting in the neutral area giving no clear signal for entering the market.
Support levels: 1.1516, 1.1544, 1.1579, 1.1600.
Resistance levels: 1.1631, 1.1667, 1.1716, 1.1748.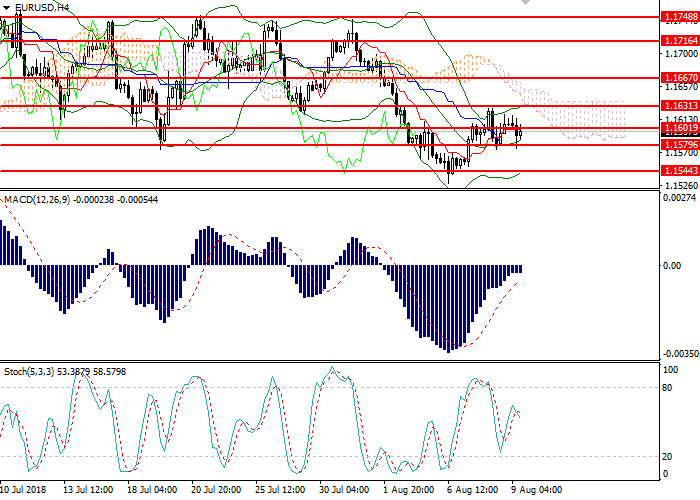 Trading tips
Long positions may be opened above the level of 1.1635 with targets at 1.1715, 1.1750 and stop loss at 1.1590. Implementation time: 1-3 days.
Short positions may be opened below the level of 1.1575 with the target at 1.1530 and stop loss at 1.1590. Implementation time: 1-2 days.
BCS Forex clients are provided with daily analytical reviews and forex market forecasts from the leading experts with many years of successful trading experience. Competent forecasts allow you to realistically assess the situation on Forex market and identify potential risks, as well as emerging investment opportunities. At the heart of professional forecast is an expert opinion based on analysis and the latest trends of the world financial markets.
To make forecasts, you need not only a comprehensive analysis of market fluctuations, but also  experience in Forex. Our experts possess all the features required for predicting certain market quotations. Analysis of such experts is supported by years of successful trading operations and in-depth knowledge of the peculiarities of global financial markets.