06/14/2018
Current trend
S&P 500 index in the H4 chart reached the level of 2773.4 (Murrey [8/8]). If it is broken down the next target will be 2763.7 (Murrey [7/8]).
The decrease may be caused by yesterday's Fed's decision to raise the interest rate by 25 basis points and continue monetary policy tightening. The regulator noted that two more increases could take place this year.
The labor market shows records, and unemployment rate remains at a low level of 3.9%, which contributes to economic growth. The Fed predicts that GDP in 2018 will be approximately at the level of 2.8%, which exceeds the previous forecast.
Today, investors are waiting for the ECB meeting, after which it may become known how the process of curtailing monetary incentives will occur. At the moment the program is developed only for the period until September 2018 and costs about 30 billion euros every month.
As for geopolitics, Donald Trump and Kim Jong-un negotiated in Singapore, where they managed to come to a mutual agreement to begin disarmament of the peninsula.
Support and resistance
Stochastic is at the level of 15 points and indicates the possible correction.
Resistance levels: 2779.2, 2783.2.
Support levels: 2763.7, 2753.9.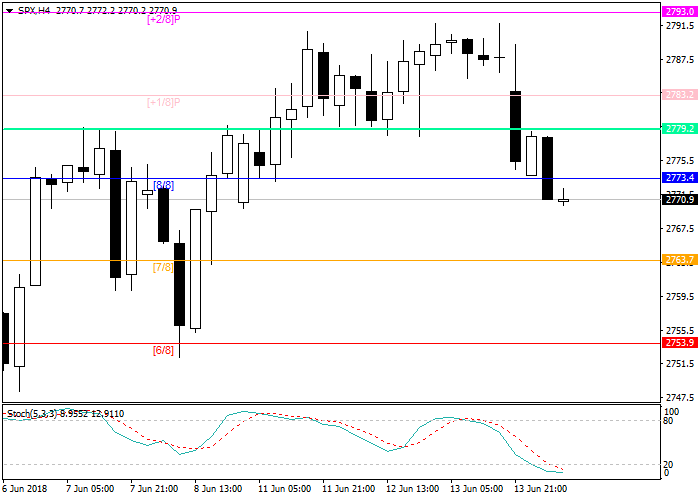 Trading tips
Short positions may be opened from the current level with target at 2753.9 and stop-loss at 2779.2.
BCS Forex clients are provided with daily analytical reviews and forex market forecasts from the leading experts with many years of successful trading experience. Competent forecasts allow you to realistically assess the situation on Forex market and identify potential risks, as well as emerging investment opportunities. At the heart of professional forecast is an expert opinion based on analysis and the latest trends of the world financial markets.
To make forecasts, you need not only a comprehensive analysis of market fluctuations, but also  experience in Forex. Our experts possess all the features required for predicting certain market quotations. Analysis of such experts is supported by years of successful trading operations and in-depth knowledge of the peculiarities of global financial markets.