05/08/2018
Market Recap
EUR was weaker – and conversely, USD stronger – following extremely disappointing German factory orders for March (-0.9% mom vs +0.5% expected, previous revised down to -0.2% from +0.3%). This was the third consecutive mom decline for the series. The news provides some hard evidence of the slowdown shown in both the Ifo indices and the manufacturing PMI, that the Eurozone economy lost momentum in Q1.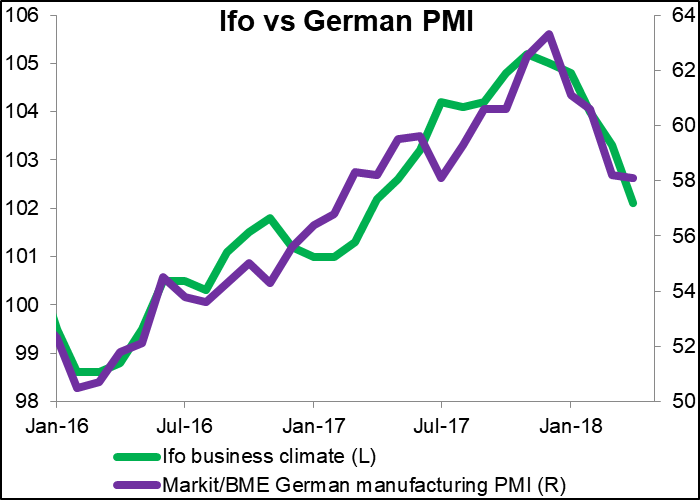 The figures throw doubt on the idea of globally synchronized growth based on rising investment or capital spending. One of the worst-performing sectors in the figures was foreign orders investment goods, which fell more than 7.5% over the last three months compared to the previous three months. The last time the rate of growth plunged by that much was in 2015; eventually the ECB had to increase its QE program.
Oil fell after Trump sent out a tweet saying he'd announce his decision on whether to remain in the Iran nuclear deal at 2 PM local time (18:00 GMT)
The mystery man of the FOMC, Richmond Fed President Thomas Barkin, gave his first big speech since taking on his current role. He turns out to be a serious hawk: "it is hard to argue that accommodation is appropriate when unemployment is low and inflation is effectively at our target," he said. "You probably ought to go to neutral in that environment." Note that the official Fed line is that inflation is "close to" or "near" the target, not "at."
He added that one reason inflation is under control is because of the Fed's willingness to step on the brakes if necessary and added, "we don't want to risk our credibility of our commitment to low and stable inflation." So he's more concerned about maintaining the Fed's inflation-fighting credibility than in focusing on the "symmetrical" nature of the Fed's target, as other FOMC members have been – meaning that since inflation was below target for some time, they can allow it to run above target for some time too.
In that respect, Bloomberg had an interesting article pointing out that when NY Fed President Dudley retires on 17 June, it will set into motion a series of events that will give a vote to Kansas City Fed president Esther George. She's the most hawkish person on the FOMC! When she last voted, in 2016, she voted to hike rates at five of eight meetings, even though the Committee wound up raising rates only once that year. So with the addition of Barkin and George, the FOMC may take on a distinctly more hawkish tendency. This would increase the "interest rate divergence" trade and be bullish USD.
Today's market
Early in the European day Tuesday, we get two indicators out from Germany: trade and industrial production.
The German trade figures are now politically sensitive as the Trump administration tries to prod world trade into balance. In that respect, the forecast rise in Germany's trade surplus is likely to be positive for the euro/negative for USD.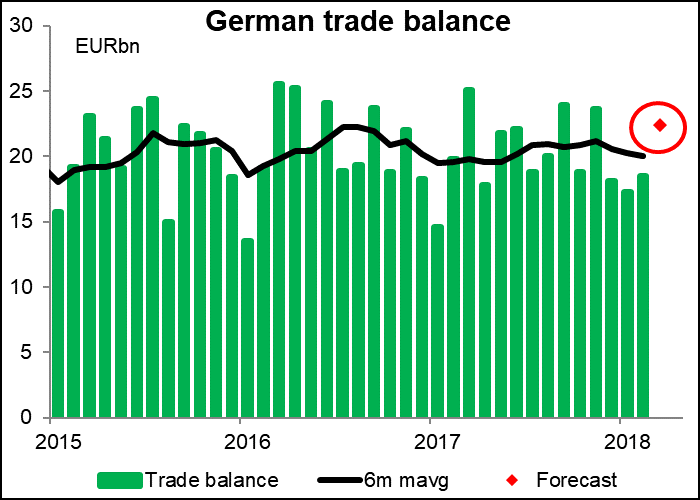 A rebound is expected in Germany's industrial production in March, following the large fall in February. Nonetheless, it's expected to be muted. However, there's a good chance that it will miss expectations, following yesterday's big disappointment with the factory orders figure.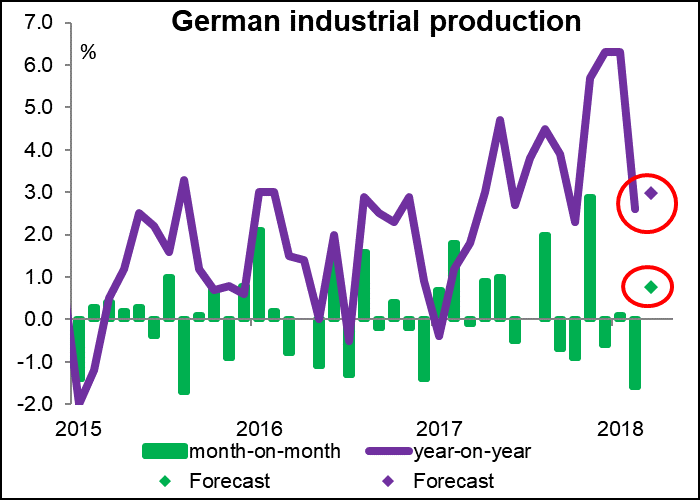 One of the highlights of the week will be today, when Fed Chair Jerome Powell will participate in a panel discussion on "Monetary Policy Influences on Global Financial Conditions and International Capital Flows" at a conference on the international monetary system sponsored by the Swiss National Bank and the IMF. With the FOMC pretty evenly balanced between the three- and four-rate-hike crowds, the position of the Chair, with the ability to sway other members, can be crucial.
It's Tuesday night in Australia and Treasurer Scott Morrison will present the Australian Federal 2018 budget to Parliament. The budget should show that the government's fiscal position has improved relative to the Mid-Year Economic and Fiscal Outlook (MYEFO), released in December, as job growth has been stronger and commodity prices higher than expected. The government is likely to announce a narrower deficit for both 2017/18 and 2018/19. (The Australian fiscal year runs from July to June.) What would the market impact be? In theory an improved fiscal position should be positive for the currency, but on the other hand, less need to borrow could mean lower bond yields, which would be negative for AUD.
Here are the previous estimates from the MYEFO: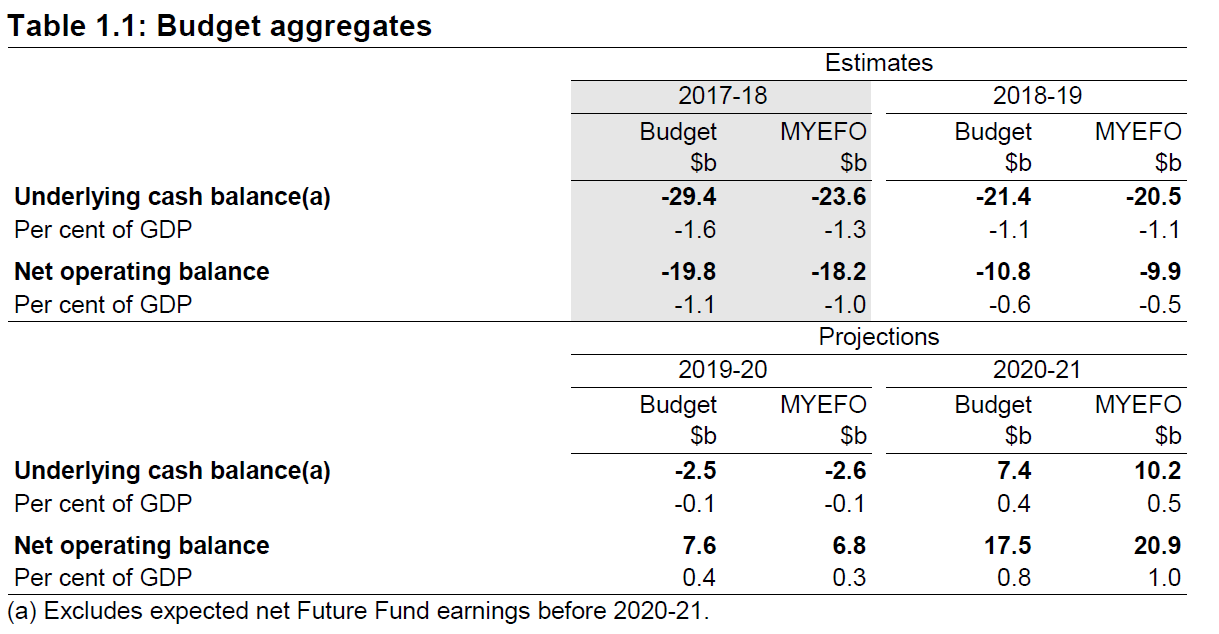 The National Federation of Independent Businesses (NFIB) small business optimism index is expected to be unchanged. It peaked back in February at the highest level since 1983, so even remaining unchanged at around these levels is pretty good (104.7 vs the average for the last 10 years of 93.8). Note from the graph too that the "hiring plans" index, which is already out, fell further during the month. That makes it even more impressive that the overall index can stay unchanged. USD-positive.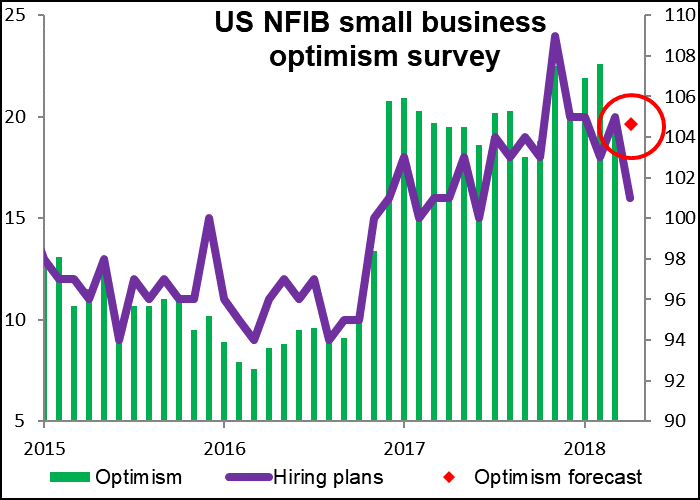 Canadian housing starts are forecast to slow further. That's to be expected, with prices falling – an indication of slowing demand. Bank of Canada Gov. Poloz last week highlighted the deeply indebted state of Canadian households, where debt is at a record high relative to income. A slowdown in housing would mean less need for tightening to avert a crash, and therefore be CAD-negative.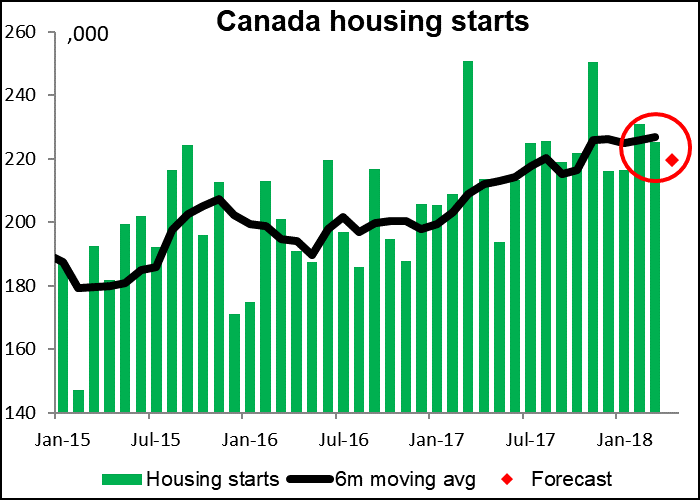 The US job openings and labor turnover survey (JOLTS) report is the converse of the unemployment data – instead of the number of people looking for jobs, it's the number of jobs looking for people. While there's been some month-to-month fluctuations, the six-month moving average has been remarkably steady since last September at around 6.05mn openings. In that respect, this month's forecast of 6.075mn would be an above-trend figure – remarkable after 91 consecutive months of job increases. USD-positive.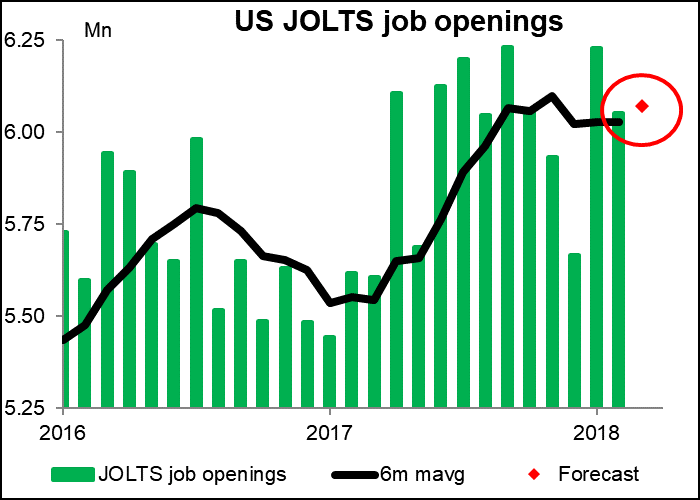 Overnight comes the Japan labor cash earnings figure. This ought to be a much more important figure than it is – it's the equivalent of the average hourly earnings in the US or average weekly earnings in the UK. All central banks are waiting to see tighter labor markets feeding through to higher wages, which would be the sign that the fabled Philips Curve is alive and well. In this case, earnings are expected to grow at 1.0% yoy again, suggesting that earnings are still trending higher. Great news! Except that in order to reach the Bank of Japan's 2% inflation target, they'd probably have to be running at well over 2% a year. So this may be progress, but it's slow progress indeed. Still, it may be slightly JPY-positive.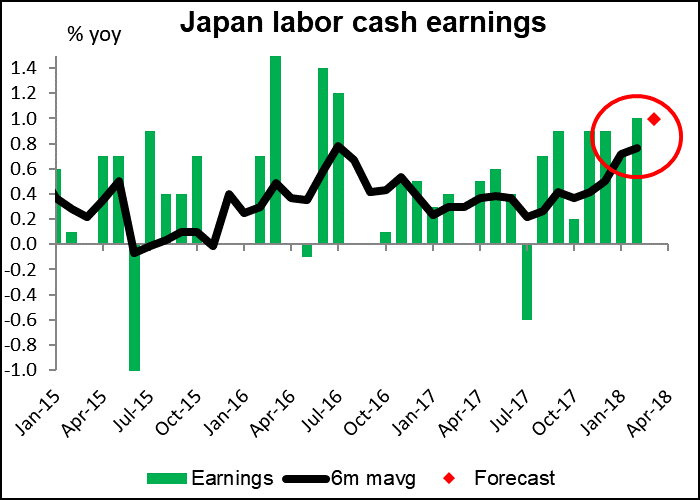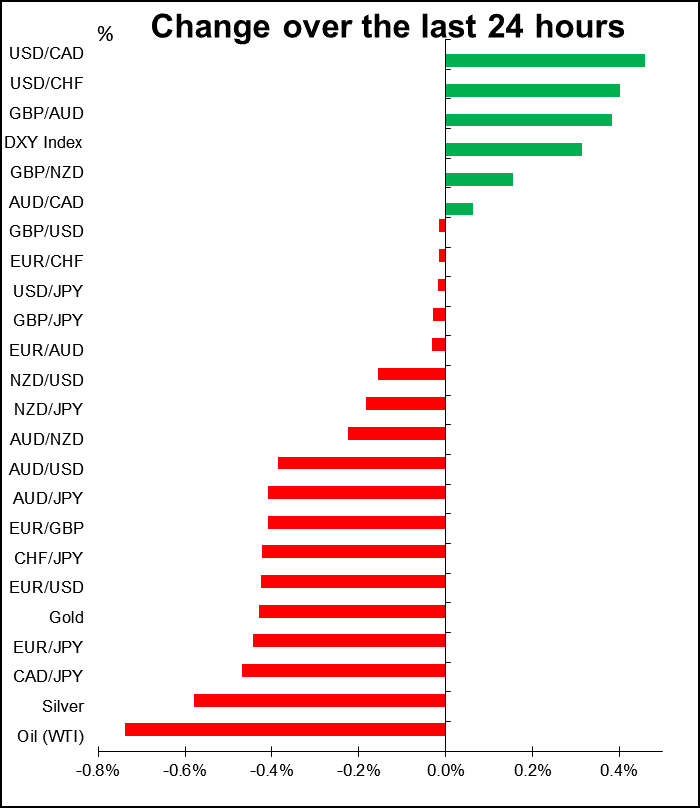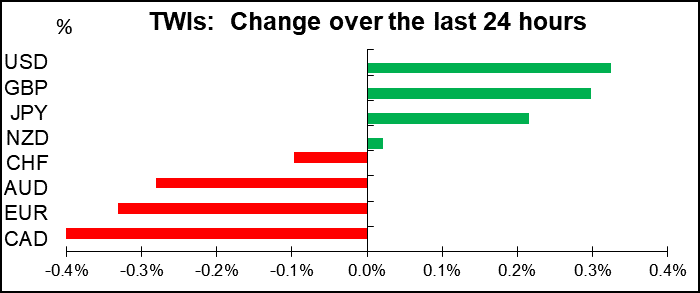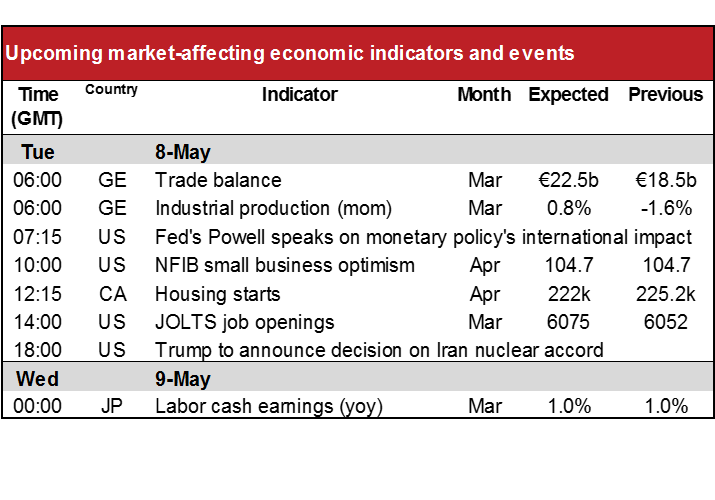 BCS Forex clients are provided with daily analytical reviews and forex market forecasts from the leading experts with many years of successful trading experience. Competent forecasts allow you to realistically assess the situation on Forex market and identify potential risks, as well as emerging investment opportunities. At the heart of professional forecast is an expert opinion based on analysis and the latest trends of the world financial markets.
To make forecasts, you need not only a comprehensive analysis of market fluctuations, but also  experience in Forex. Our experts possess all the features required for predicting certain market quotations. Analysis of such experts is supported by years of successful trading operations and in-depth knowledge of the peculiarities of global financial markets.