05/07/2018
Current trend
The quotes of silver are slowly rising again within the current lateral trend. At the end of last week, the instrument remained virtually unchanged, consolidating near a strong support level of USD 16.40 per ounce.
It is possible that the pair returned to the channel of narrow side consolidation, in which it traded since the beginning of February to the middle of April. The range is very limited, though in the absence of strong catalysts, the pair can continue moving within the borders of 16.00-16.75.
This week, there will be a number of key releases that can give additional support to USD, which will create pressure on the precious metal.
Support and resistance
When the US currency begins to gain investment attractiveness, the demand for metals, energy, and "safe havens" is rapidly falling. At the end of spring and early summer, the dollar is expected to grow strongly in view of favorable macroeconomic data on the main sectors of the economy, which will entail further tightening of monetary policy and an increase in the key rate. In this case, the demand for USD will increase significantly, and the price of silver will go to local lows of 16.00, 15.60. In the long term, the price of silver is expected to fall to the area of USD 12-13 per ounce.
Technical indicators keep the signal for side movement of the pair: MACD volumes are minimal, the signal line tends to zero, and Bollinger Bands are directed horizontally.
Support levels: 16.00, 15.90, 15.60, 15.00, 14.60, 14.00, 13.50, 13.00.
Resistance levels: 16.50, 16.75, 17.10, 17.25, 17.30, 17.70, 18.30.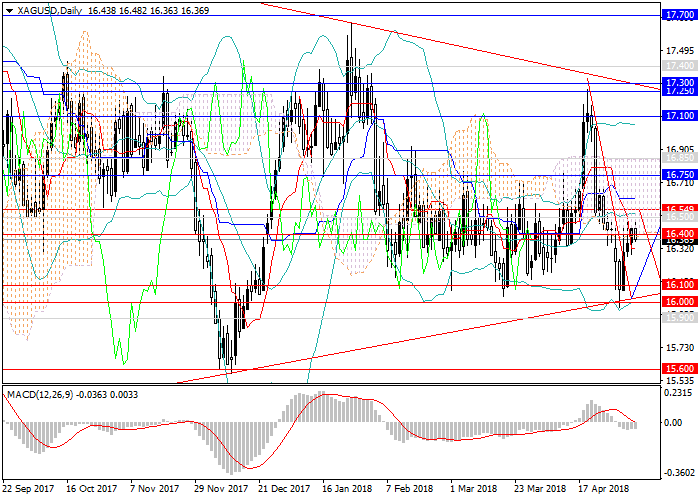 Trading tips
Short positions may be opened from the current level with targets at 15.90, 15.60, 15.00 and stop-loss at 16.90.
BCS Forex clients are provided with daily analytical reviews and forex market forecasts from the leading experts with many years of successful trading experience. Competent forecasts allow you to realistically assess the situation on Forex market and identify potential risks, as well as emerging investment opportunities. At the heart of professional forecast is an expert opinion based on analysis and the latest trends of the world financial markets.
To make forecasts, you need not only a comprehensive analysis of market fluctuations, but also  experience in Forex. Our experts possess all the features required for predicting certain market quotations. Analysis of such experts is supported by years of successful trading operations and in-depth knowledge of the peculiarities of global financial markets.